The latest of the updates! Podcasts, articles, radio interviews, etc. Please, let me know, if something is missing!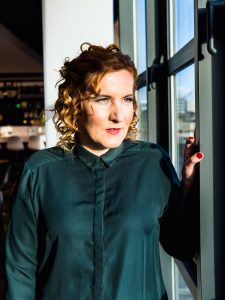 April is my birthday month, and my little business will be 2 years old. I'm going through a bit of a rebranding, so there will be some changes on this page as well. 
I've already redone my Facebook. 
Instagram will still stay the place, where I share my writing. 
I'm also in the process of finishing the draft of my second book – this will be in English only. 
I'm also very much looking forward to the 3-hour workshop for the Estonian Chamber of Commerce and Industry. It'll be held online on the 19th of April, and it'll be in Estonian, but please, get in touch, if you think you'd like to enjoy writing for your business more. So it wouldn't be such a chore anymore. 
My, oh March! 
What a month it has been! Full of lessons, professional and personal ones. Not all sweets and flowers, but that means changes are inevitable in running my business, too. 
The first draft for the historic novel is finished, so now I can say I do have experience in developmental editing of fiction. And writing, too. 
Also, I finished the draft of Värska's book and sent it to them for edits. Until then, I'll edit audio-interviews they'll receive as a thank-you gift for their patience. 
I also enjoyed thoroughly the Dark Angels Foundation course. In November 2020, I had their weekend-workshop, but now – I'm officially a Dark Angel's Writer!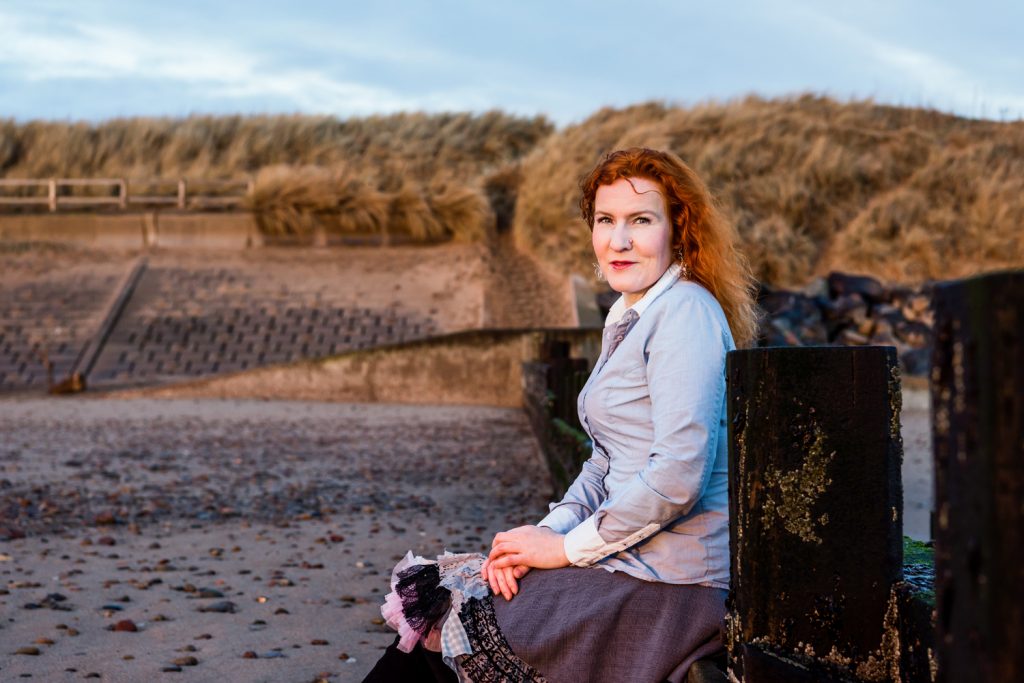 The beginning of the year had some challenges, but I managed to finish the text for the annual exhibition for a writer's museum in Estonia, continue working with my corporate customers, and book myself a 4-week writing course. Something I wanted to do already in October, but it didn't happen. So, March it is. 
Also, I was invited to do a 3-hour workshop for the Estonian Chamber of Commerce and Industry. That will be held in April. More information soon! 
On the 15th of February, I held a 60-minute writing workshop for librarians in Estonia. 
On the 24th of February, we celebrated the Estonian Independence Day with a local honorary consul and fellow Estonians. 
My customer became a published author
Usually, I can't share who I'm working with because this is the point of having a ghostwriter. Not knowing that someone else did the writing part. This time is an exemption, as Mrs Simone Gisondi asked me to write a foreword into her book, too. She did most of the writing, I helped her with developmental editing, plus walking through the publishing process, and marketing ideas, too. Her book is available on Amazon.
Thank you, 2021! What a year it has been! 
There were times in December, when I thought – I need extra hours. Some nights I didn't believe I managed to all the things I did. 
Working on Värska's book has finally entered the stage, when ALL interviews are done. 15 people. That was more than I expected, but as we didn't agree on the number or the hours, a learning curve it is. Now, I've got about 50hrs of interviews to turn into a transcription. Oh, I've started with that, of course. With the help of an AI. 
I also sent my stories to the Grey Hill Studios. The recordings will start in April. This is the update now. 2022 is looking busy already, as I got the booking to workshop in February!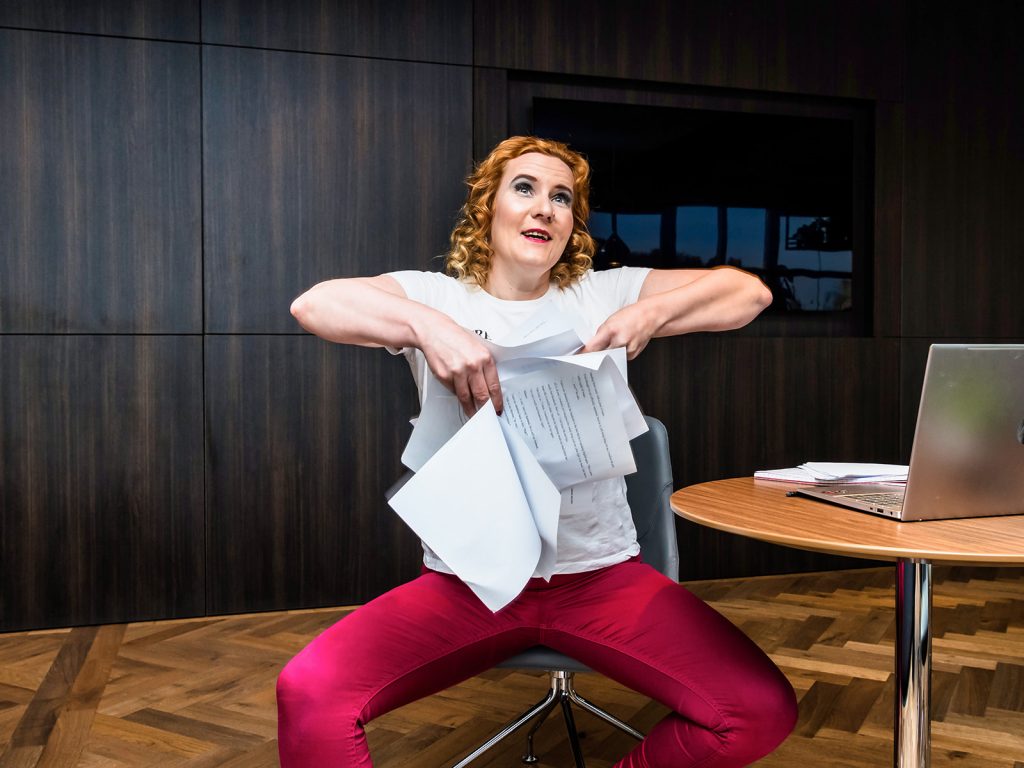 My work was selected to the podcast that shares writing!
2022 is a Year of Stories in Scotland. To celebrate that, The Grey Hill studios is launching a year-long podcast, where each month represents one author. 
So in some sense, it's like going back to my University times, when I wrote our own scripts, did voice-overs and edited them. Only this time, a professional actor is going to read my stories, and they'll be also edited professionally. I'm beyond excited, but I do have to write another story because I need to fill 60 minutes, so 4×15 minutes. 
I don't know which month will I have, but my stories are about wintering.
This will be amazing, for sure. 
TOP 3 Tips to Writing Brilliantly – Even When You Think You Can't! 
Not only was this my first even podcast in Australia, but it was live, and it was 6AM in the UK. 
I was very grateful, when Carmel Murphy chose me among the hundreds, who applied. 
Hopefully, you'll enjoy this. 
I'm also doing occasionally workshops in groups. Some coaches have invited me to share my writing tips for their members, students. I've worked with Conscious Wealth Creators, Kai Oja, and others, we still run our Fb group Confident Content Creators. Keep writing! 
Besides working on my customers' books – a historic novel, and a business book for a company anniversary, November also brought my first ever Christmas Faire. 
What I've learned from writing for others is that not everything depends on your plans and schedules. 
So far, I've already interviewed about 10 people for the business book, and I'm still not finished. People get sick, then they try to catch up with work… All sorts of reasons. 
And the fiction story, too. What started as a weekly coaching, encouragement and developmental suggestions, has become now researching and writing part.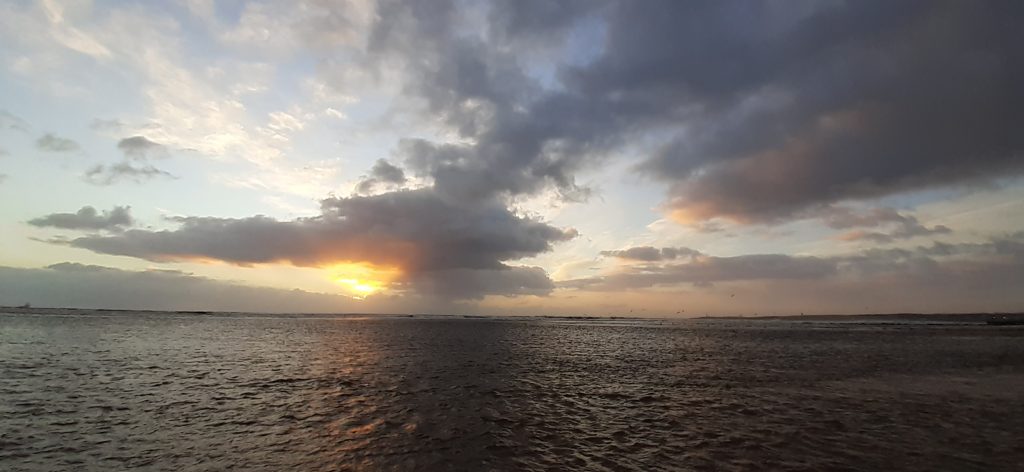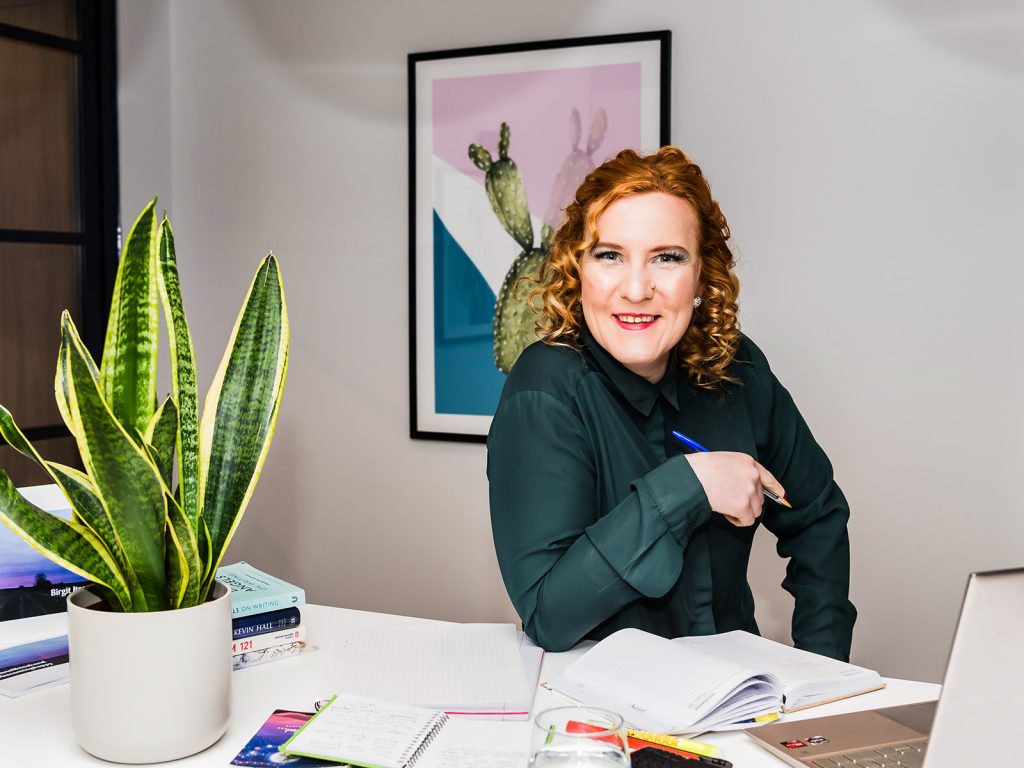 I'm a student! 
I applied for a course about NE Scotland history, landscape, culture, and economy in the University of Aberdeen, and I got a free spot! 
I even got a student ID. How cool is that? 
Well, never did I imagined when moving to Scotland that I can study in one of the oldest universities in the UK. I did want to learn more about the area that I now call my home, but having an opportunity like that is something to be very grateful for. And I sure am. 
I also keep up with my professional development, taking courses about writing, writing industry and mindset, too. What would professional skills be without a supportive mindset? I'd be a doer, not an achiever. 
I also continue 1:1 sessions with my coach  Jamie Jauncey because I'd really like to develop my creativity in writing. And I like his teaching very much. 
Creative mind behind the campaign
Back in October, I got a message from Mrs Piret Sihver, the head and the heart behind the tourism development in the middle of Estonia - Järva County. She asked me to help run the campaign for finding stories about the area. We called it 1000 feelings. Although we didn't get so many stories, we had a good selection, a variety. I also wrote press releases, and articles, so the campaign was covered well in local media. We had our campaign faces, I was editing and uploading videos and creating social media posts. Was fun. Thanks!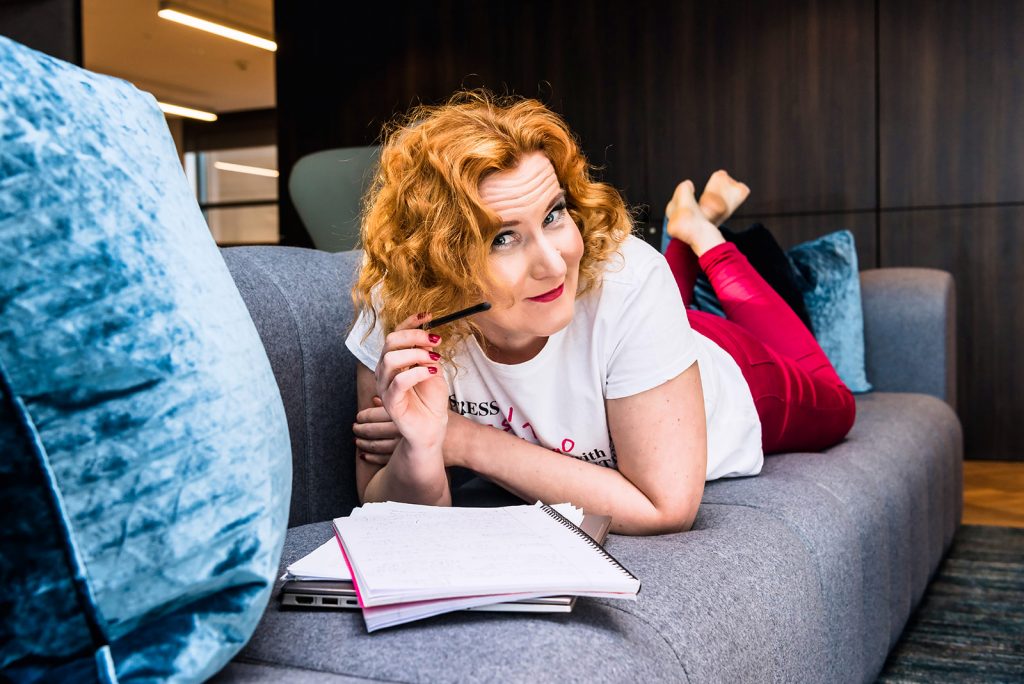 Another wonderful branding photoshoot with Iska Birnie! 
This time, it was in Neo Space, Aberdeen, and it was our first indoor shoot together. This woman is fabulous. I had so many images to choose from, and I ended up buying extra images. 
These two photos are from the second half of the shoot. 
You want to work with people who "get you". Iska gets me, for sure. 
In October, I was entitled to be the perfect napkin-writer. 
I smiled, when I saw that. Back in the summer, I recorded an episode of Loovusvool podcast by Kaisa Holsting. It was my first time being the quest in an Estonian podcast. So it's pretty special. And of course, in Estonian.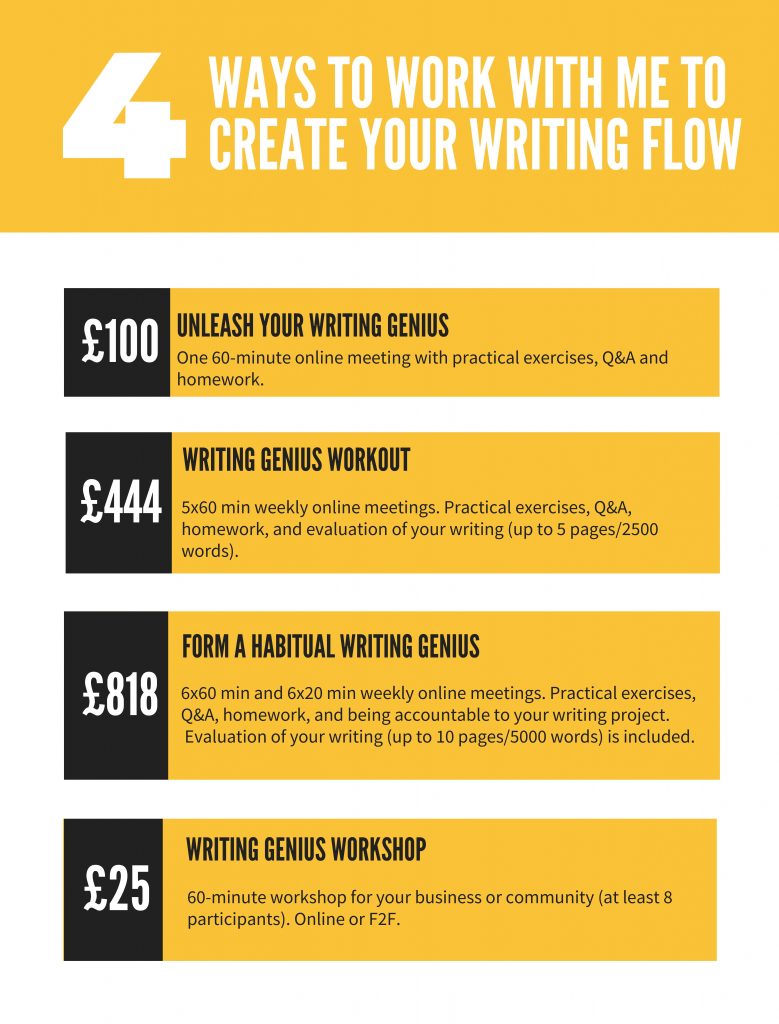 Successful September!
Finally, the packages are here. If you feel like writing is not your thing, but you need to do this because of your work or business, these are designed for you. Feel free to ask me more questions about them via using the button below. 
September also brought me my first ever Open Mic slot to perform my poetry. 
25 of the hard cover happiness-books travelled to London Fashion week, because they were selected as goodie bag items for This Is Icon event, where the star of the show was Grace Jones. 
I took some writing and business courses, participated in webinars and networking events. Since October, I'll start working with two smaller customers who need support with their social media content. Interviews for the book of the mineral water producer Värska are coming to an end. October is the time for writing the first draft.  I'm also very excited about the coaching customers.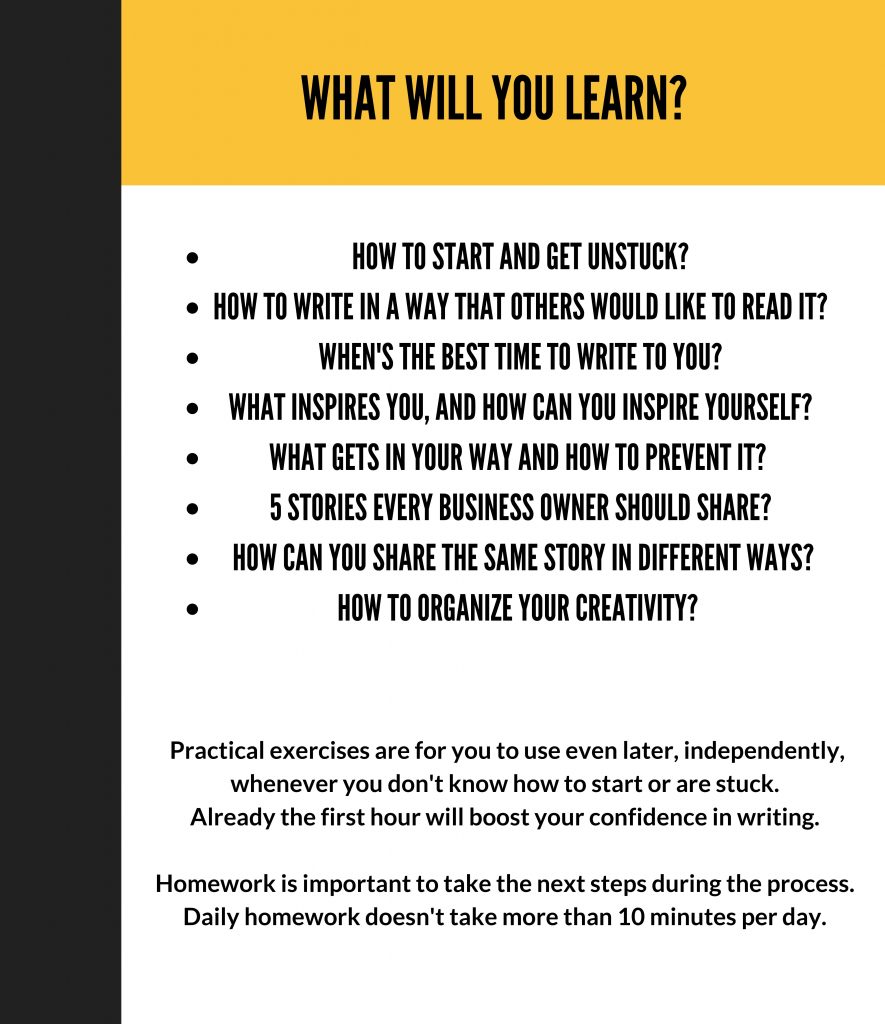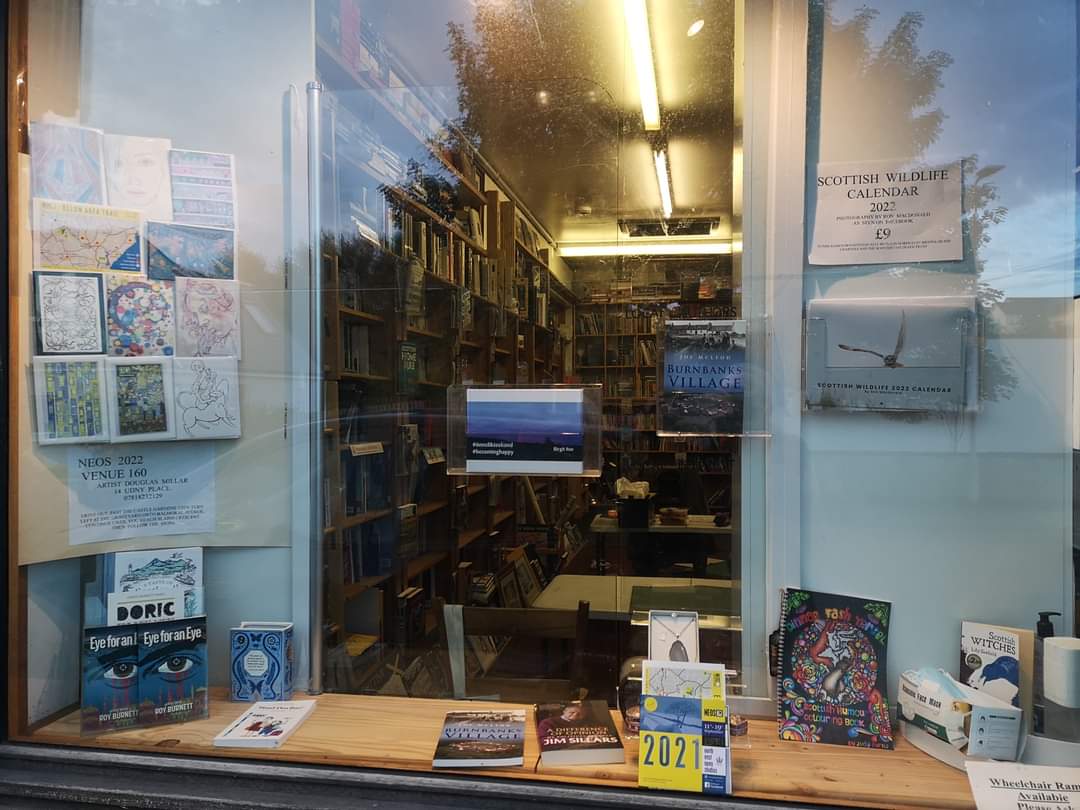 Better Read Books
I cried today. It's 18/09/2021, I watch this picture, and tears of gratitude fall down on my cheeks. This is the window of an independent bookshop in Ellon, Aberdeenshire. They decided that they are taking my book to sell in their shop. To see this image on social media was more than I could expect. Or dream. Sometimes, writers and speakers are lack of words to express the gratitude. This is one of those moments. In Aberdeen, you can find my book in Books and Beans, Belmont Street.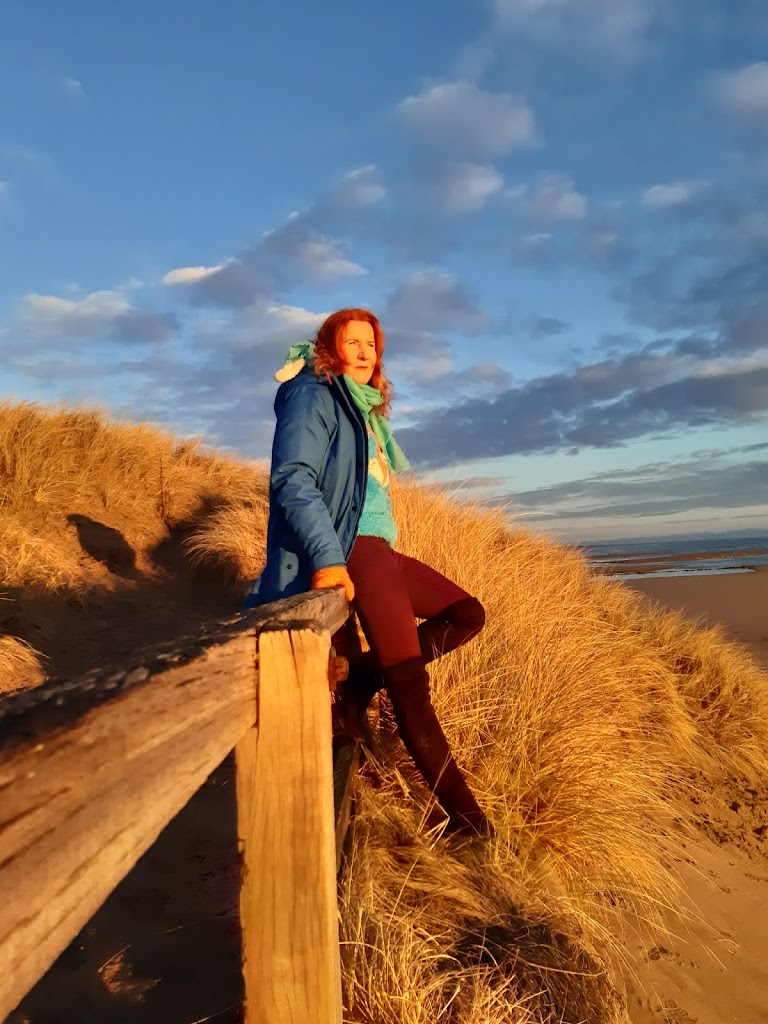 A year ago, I wasn't sure if I know enough to share any writing tips or teach any aspects of writing. Or how to find your inner creativity.
Do I know enough now?
Well, enough is an interesting word because there's a comparison involved. If there's a room full of boxes, which one of them is good enough?
For what, you might want to ask.
The same is about knowledge for teaching. Do I know enough to teach writers? I'd say No.
Do I know enough to teach people who struggle with creativity and writing, but have to write because of their business (self-employed) or profession? I say yes because it's been confirmed so many times now.
Feedback is good, but my confidence is not based only on that. It's more of 𝐼 𝑘𝑛𝑜𝑤 𝑤ℎ𝑎𝑡 𝐼 𝑘𝑛𝑜𝑤 style.
Last week was the last session with one of my one-on-one customers. She is no beginner in writing, but writing is not her main job. We met weekly, and these are just some of the results she achieved within those 4 weeks.
She organized her creativity in a way that she created herself a writing schedule.
She set a goal to finish the first draft of her book.
She restored the writing flow and has numerous exercises to provoke her creativity for the times she feels stuck.
She has more clarity about what inspires her and what doesn't.
Furthermore, she said the process was interesting, fun, and very thought-provoking, she surprised herself many-many times.
I've decided to take time for one coaching customer per month. This is all I can take with my current writing commitments.
Would you like to discover the writing genius in you?
That 5-week course was a blast! Thank you, everybody who attended and also — the feedback you gave us. Beyond grateful. Now it's time for me to go to visit my friends and family in Estonia. Workwise —I'll run my first ever writing retreat, speak in some events and pay a visit to my first ever corporate customer — the mineral water production company Värska Originaal, who's soon celebrating their 50 years in business. See you in August! 
5-week course: Conquer your Content
Starting on 8th of June, you'll have an opportunity to upgrade your business not just one or two levels but many more. It really depends on how much time you spend on the tailored exercises we're going to give you. We'll also have 5 weekly meetings where we'll dig into the framework and emotions that are the pillars for a persuasive copy on your website, newsletter and social media.
We only have 10 spots to this course, and they are filling up fast. We'll also teach you how to get out of your own way when it comes to producing ideas what to write about and evaluationg your own writing. You'll learn how to unleash the writing genius in you. To participate, send an email to wordaccord@gmail.com or click on the image to see the Event description on LinkedIn.
Another wonderful podcast session! 
I think I lost the count of the podcast I've invited to speak after I did the 10th recording.  Still, every single one of them is special. It's special because of the emotion that is created during the recording. 
Although people see it as a good marketing tool, for me it's more than that. It's an opportunity to inspire. And to inspire is a part of my purpose. We could all be inspired by our own lives but for some reason – maybe because we are social beings – we are looking for an inspiration in stories that are told. Here's another version of my story. Thank you fro watching! 
Buy my books from my website! 
Because happiness-book is bilingual, and Estonian language is not supported my Amazon Kindle, they only current opportunity to buy my e-book is via this website. 
For a limited time, there's also an opportunity to buy a signed hard-cover copy of this book. This opportunity is also available only via this website. The paperback can be found on Amazon and on Books and Beans Aberdeen. 
Storytellers Unleashed! 
If storytelling is something you like, you surely want to listen to the series of storytelling in different forms. 
TEB Creative is a London-based small business, and I'm honored to be the first guest of the first season of their podcast. 
Can I print out your poems and put them onto my wall? 
Yes, you can now. On the section of Mindset Writing (Word Accord) you'll find three designs for one poem. The price includes all of the designs. In the future, I'm looking forward to create more products, more wall-poetry. 
When you'll click on Workshops, then you'll find the workbook we did together with a social media and copywriting expert Iain McMichael to help you to get unstuck with your social media writing. Online payment is 100% secure with Stripe.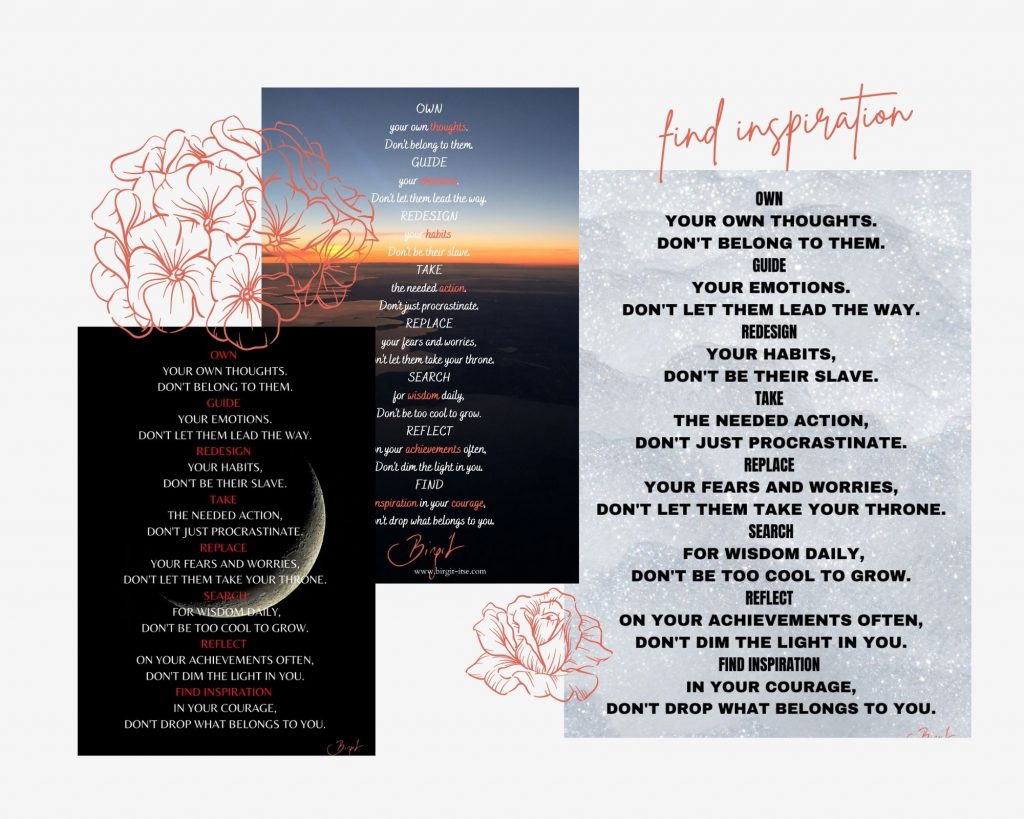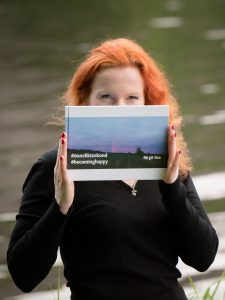 Find me on GOODREADS
I uploaded the first Happiness-Book onto Goodreads a while ago and then kind of forgot about it. Lately, I went all the way, and I'm proud to announce that I'm a Goodreads author now! Please find me, and thank you for your reviews!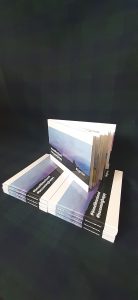 Join my betareaders! 
I decided to create a group for my betareaders. To be a betareader you don't have to be a professional editor or from the publishing world at all. It's the place for feedback from ordinary readers, so to speak. 
They'll see snippets from the pieces I'm working on and all I'm interested in is their honest feedback.So if that's something you're interested in, please connect me via Facebook and I'll give you the access.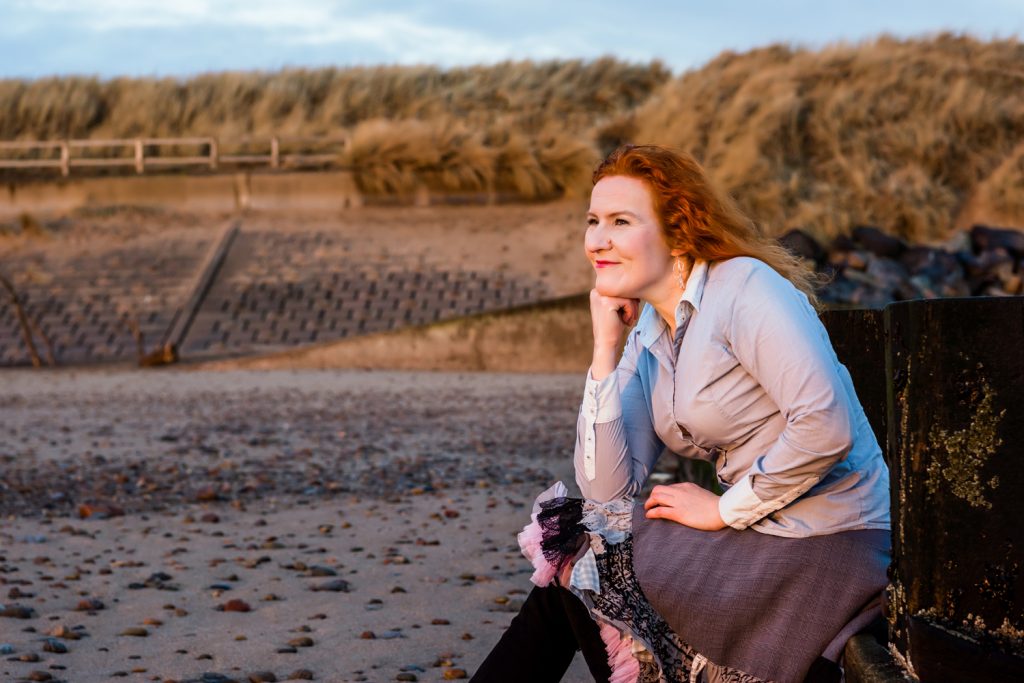 On the 25th of March, 5PM GMT time, I'll be joining with a social media expert and a copywriter Iain McMichael from IGM Ventures for an engaging workshop. Get your pen and papers ready because this is the only way you'll get something to use in your coaching or consulting business! If you'll do your part, we'll guarantee that's the best hour you've ever spent. Keep an eye on my socials for the latest updates!
International Mother Languages Day
On the 21th of February, 2021, I had an amazing opportunity to participate in an event that was dedicated to Mother Languages Day.
This spoken word event was organized by amazing Edith Blackbird and Amy Hoskins
Thank you so much.
Please enjoy the beauty of languages and dialects.
There were so many of them.
I'm the 4th to perform.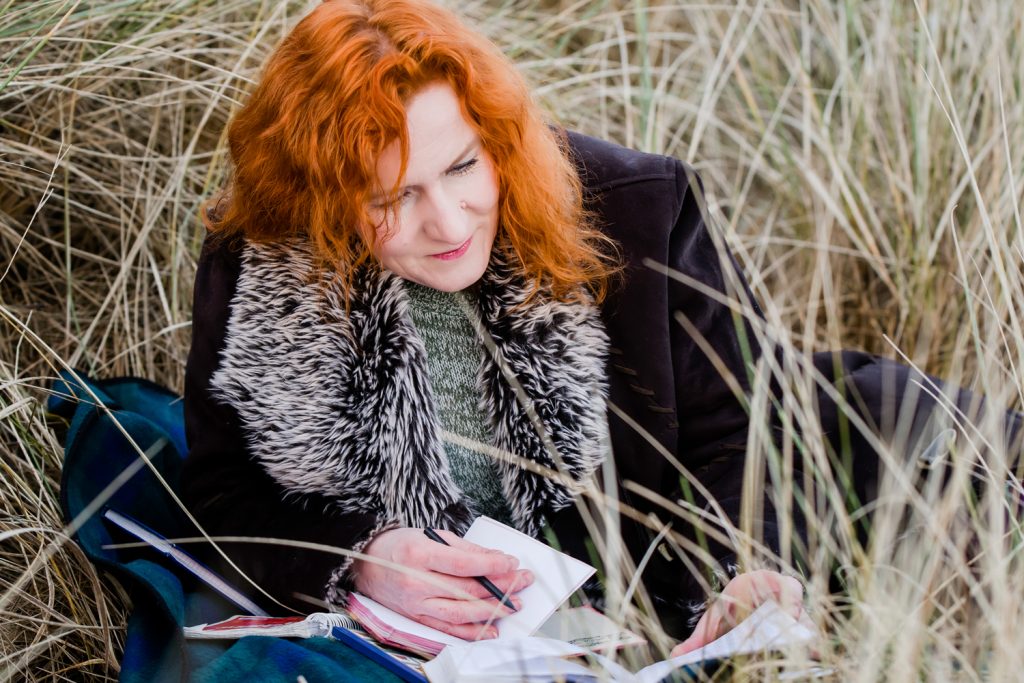 Developing my skills as a writer
This is something I do weekly in smaller scales but once a month, I participate in a writing course or a workshop run by the best in the field. 
Some of them are free, some of them I've paid for. Hay House, Black Card Books, Anne Helmstadter, Writers HQ are the few in the list. 
Plus numerous books that I've purchased and study to really become the best writer I can ever be. It's not only about grammar or vocabulary, structure and clarity. It's about polishing my style and organizing my creativity. It's about being a voice, not an echo. 
Sunrise photoshoot with an award-winning photographer
I love working with Aberdeen photographer Iska Birnie. 18.01.2021 marked our second sunrise photoshoot together. The first was in June, now it was time to test out the light of a winter morning.
We were lucky. The morning was absolutely gorgeous, and there was only slight minus. We had a lot of fun and I'm more than happy with the results.
These are just a few of the images we created.
Due to my work as a presenter and a journalist, I've been in front of the camera a lot. Like a lot.
Along with also award winning photographer, Estonian photographer Dmitri Kotjuh,  she is one of the few photographers who captures my personality while I'm looking good at the same time. Thank you!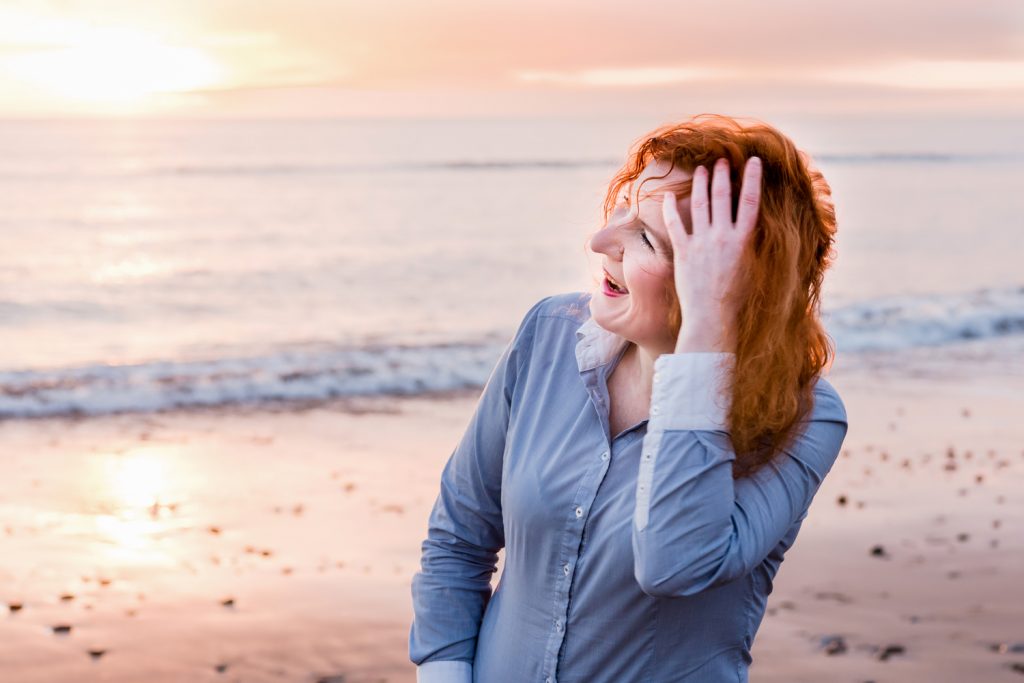 What a way to celebrate Burns Day! 
I was very delighted to do a workshop for Aberdeen based networking group run by non-profit organization Make Minds Matter. We did some creative writing exercises and every participant left with something they can actually use in their business writing or waking up their creativity! Thank you for inviting!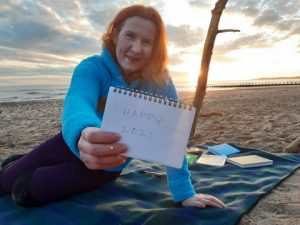 The day when the national lockdown was announced, started well. The Press and Journal published a little story about Aberdeen author (I love the way it sounds) and her book. Thank you very much.
It came as a little surprise for me, as we had the lovely conversation (and a lot of laughs) with the journalist long before Christmas. I must admit, I did check their page on the 30th, when we celebrated our first year in Scotland. But to have it on a first Monday of 2021, felt like a small motivation boost.
A podcast about happiness NOW! 
Just before Christmas, I had a lovely experience with Happiness Now podcast. I really encourage you to listen to Rad's work. And if you have never been a guest before, he's a lovely host to start with. 
A collaborative podcast for Thanksgiving
Anamika Dutta is a talented lady, who put together a creative and lovely podcast about simple things in life to be grateful for. Every single one of us didn't know what the others are doing, so we all had our own unique ways to answer Anamika's questions. The result is yours to listen to.  
Happiness book made it to Amazon!
About a month ago, when we put together this 'little happiness-book', as my writing coach Jamie Jauncey describes it, me and my publisher in Estonia never thought that we've created something so unique that it's out of Amazon formats in many ways. Now we know. On the 7th of November, after re-sizing, numerous times of re-designing, changing details, it was approved and it's on Amazon.
#becominghappy is also in Amazon Kindle! This is great news for anybody who enjoys reading on an electronic device and and couldn't care less about the pictures! All quotes are numbered – so you can keep track – and the simple design prevents distractions.
A Saturday night interview for 750 000 listeners! 
My first ever UK radio interview was for Chat and Spin. "It was actually a pretty good interview," said one of the hosts after we had finished being live. Chat and Spin is a non-profit radio, and they help creatives and non-profit sector the way they can. I was the second to go live on the 31st of October, so it's about 40 minutes from the start. 
What happens when an artist meets a writer? Well, me and also Aberdeen based Gemma Hare actually haven't met but we've had some very inspirational video-calls. From one of them, a collaboration idea for greeting card collection was born.
Gemma is drawing colourful insects, and we both believe that evey little insect is abolsutely valuable and many of them are often overlooked. So, we came up with an idea to bring more focus to people and professions that were often overlooked before lockdown. 12 cards, 12 insects, 12 poems. Look for more from her website!
The Happiness podcast is now live!
On the very last day of August, I gave an interview to the lovely Samantha from Edinburgh, who runs The Habits of Happiness Coaching. This was my first ever interview to a podcast. It is live now, and you can listen to it here! 30 minutes well spent!
Birgit Itse was featured in Red's Ramblings podcast
Jamie Red Goodman is doing an amazing job introducing us cultures around the world. The podcast with Birgit Itse got 200 views within 2 weeks.
We had so much fun talking about life in Scotland and in Estonia. Enjoy!